THERMO IGNITER OXY-START
... enables oxygen lances to be ignited easily, quickly, effectively and reliably.
Every day a large number of oxygen lances around the world are ignited with an "OXY-START" thermal igniter.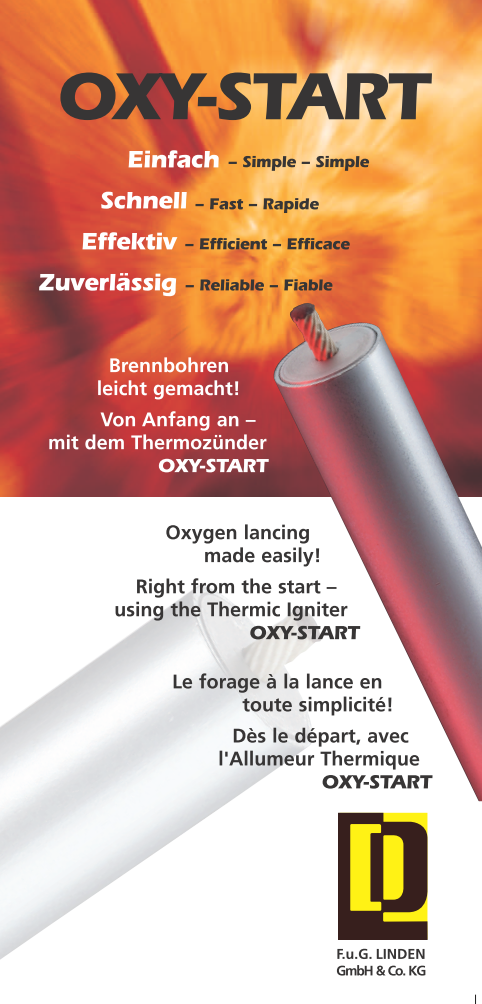 Uses:
for cutting through ceilings and walls
for drilling through reinforced foundations
for laying cables
for wall openings
for a wide range of uses in industry, steelworks and quarries
reliable and fast ignition of all oxygen lances, powder and wire lances as well as hollow tubes
for burning out blast furnaces
Our thermal igniter "OXY-START" is a safety igniter that brings every oxygen lance to full burning power within a few seconds.
It ignites safely and reliably in boreholes and slag, even if these have already cooled down to approx. 200 ° C!
The quality was checked by the Federal Office for Material Testing (BAM), Berlin.
We supply the thermal igniter in four standard sizes for oxygen lances up to an inner diameter of 28 mm (special sizes on request).

DO YOU WANT MORE INFORMATION??
Our Flyer OXY-START is available for download here!